On Wednesday afternoon the sun was shining and the Secretary of State, Chris Heaton-Harris, rolled in to Crewe Park to see the continued improvements we are making at the club. The club recently received £24,000 through the DCMS, administered and supported by the IFA, to improve our car parking facilities, additional perimeter fencing and the installation of dugouts at our second grass pitch, George Smith Park, which was built in 2020. This complimented the floodlights that were installed in 2022.
Since opening 'George Smith Park' at our grounds we have developed links with Loc Mor Gaels who now use the facility for training their Camogie and Hurling teams. Ford FC, a forward thinking Junior side playing in 2A of the Amateur League, use the pitch as their 'home' and the relationships and friendships with both clubs continue to flourish and are a great example of how our club is reaching out to others to help them progress.
We were delighted to have our friends from Loc Mor Gaels, Rowandale Intergated Primary (Moira) and Crumlin Integrated Primary all with us on the day and the kids enjoyed the Secretary of State getting his referee kit on to officiate some of the games.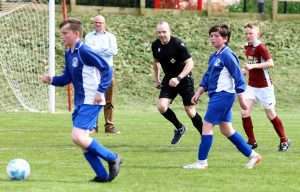 Patrick Nelson, Chief Executive Officer, Irish Football Association said: "This funding demonstrates an important investment in grassroots football across Northern Ireland. The role of the Irish FA is to promote, foster and develop football for all and we are delighted to work with the UK Government to help local clubs provide the facilities needed to increase access to the wide-ranging benefits of grassroots football participation for previously underrepresented groups and everyone in our community."
Secretary of State for Northern Ireland, Chris Heaton-Harris, commented: "As a referee, I've witnessed first-hand the benefits of grassroots sport, and this significant funding announcement will provide an amazing boost to communities across Northern Ireland, allowing more people to enjoy access to these great facilities.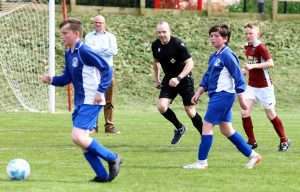 "During my recent visit to Crewe United, I heard what this support means to local people, and I'm delighted the UK Government and Irish Football Association are working together to widen participation in sport."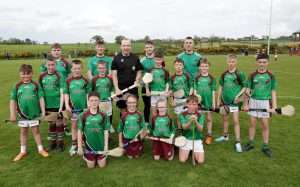 As a club we continue to push the boundaries of what can be achieved, not just through football, but by being inclusive for all sporting activities, other clubs and people from all backgrounds.
A very special mention to everyone who helped in preparation for the visit including our own Club Committee, Loc Mor Gaels, Rowandale IPS, Crumlin IPS and Sarah Keys and Bobby Burns from the IFA.