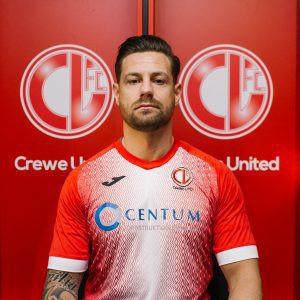 Name

Dean Youle

Nationality

Northern Ireland

Position

Defender

Age

0

Previous Clubs

Crewe United, Linfield, Crusaders, Ballymena, Lisburn distillery, Bangor, Ballyclare Comrades

Current Team

Crewe United FC

Leagues

Marshall Cup, Steel & Sons Cup, MUFL Intermediate 'A'

Seasons

2020|2021
The club Captain, Dean is a previous Steel & Sons Cup and Intermediate Cup Winner with Bangor. He leads by example and a great role model to everyone in the squad and has been a super addition to the Crewe side. His experience speaks for itself and a top quality player to have at Crewe.
Marshall Cup
| Season | Club | Appearances | Goals | Yellow Cards | Red Cards | Win Ratio | Draw Ratio | Loss Ratio | Own Goals |
| --- | --- | --- | --- | --- | --- | --- | --- | --- | --- |
| 2020|2021 | Crewe United FC | 0 | 0 | 0 | 0 | 0 | 0 | 0 | 0 |
MUFL Intermediate 'A'
| Season | Club | Appearances | Goals | Yellow Cards | Red Cards | Win Ratio | Draw Ratio | Loss Ratio | Own Goals |
| --- | --- | --- | --- | --- | --- | --- | --- | --- | --- |
| 2020|2021 | Crewe United FC | 8 | 0 | 1 | 0 | 62.50 | 12.50 | 25.00 | 0 |
Steel & Sons Cup
| Season | Club | Appearances | Goals | Yellow Cards | Red Cards | Win Ratio | Draw Ratio | Loss Ratio | Own Goals |
| --- | --- | --- | --- | --- | --- | --- | --- | --- | --- |
| 2020|2021 | Crewe United FC | 0 | 0 | 0 | 0 | 0 | 0 | 0 | 0 |